Text Font ~ 𝓒𝓸𝓹𝔂 & 𝓟𝓪𝓼𝓽𝓮 ▷ #1 𝕮♥♥𝖑 Stylish Text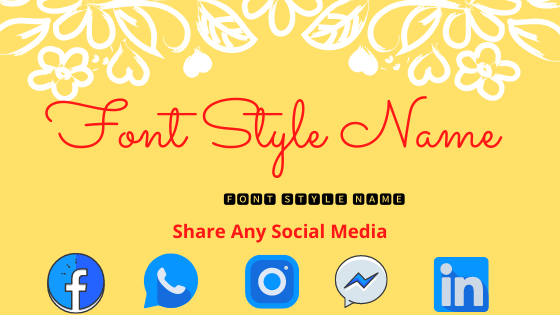 The Best Stylish Text Name Font Generator to Write Attractive Text Online
Many people don't know this, but in reality text font is just as important as the actual content of the text - because it is the text font, in fact that attracts the attention of the audience and makes sure that your message is powerful and impactful.
The good news is, you no longer need to install complicated softwares or apps to use a text font generator anymore! You have found your way to the best and easiest text font generator online that can create stylish letters for you in a single click!
Use the modern and advanced text font changer designed just for you and get unbelievably gorgeous stylish text fonts, such that you can find nowhere else on the internet.
Write Fancy Text Font Using Advanced, User Friendly Text Font Changer
This text font generator is one of the most user friendly font generators online because we value your time and encourage you to explore as many options as possible in the limited time that you can spare.
On this website you will find a constantly updated list of text font design options to choose from, so that you can remain constantly aware of the changing trends in the world of test font aesthetic throughout different social media and gaming platforms including Instagram, Pinterest, Facebook and more.
We are proud to introduce one of the most extensive lists of text font design and are constantly working hard to add more and more new text font style to this website! On top of it, this website is designed in such a way that it will not lag or crash no matter which device you are using it on.
Welcome to a redefined way of creating fancy and bold text font write up for your online and offline lifestyle in a single click! It was never this easy! And once you use this text to font generator tool, you will never go back!
Why is The Text to Font Generator So Important?
Why must you never skip the step of exploring and choosing expressive and attractive text font for every piece of writing or logo that you are creating? In fact, a text font generator plays a crucial role in increasing the visibility and likeability of your post. It increases the chances of people actually going through what you have written and these fonts also convey emotions that cannot be conveyed through simple words. The fascinating power of an appropriate text font cannot be undermined - these days social media is a platform that provides a constant opportunity for all businessmen and individuals to advertise their presence. And this advertisement is done through pictures and words. And when it comes towards the font style being used for these words plays a subconscious role in how the reader will view the product or the person in question. This trick can be used by casual social media users and gamers as well. Using the correct text font style, you can increase your following by showcasing your unique and dashing personality on your social media and gaming accounts.
Is The Text Font Generator Free?
The text for the generator is a unique and surprisingly easy way to look for expressive and luxury text font online. It offers a chance for users to find the suitable and appropriate text font for Instagram, gaming accounts, Facebook posts, WhatsApp status, Pinterest and so much more.
Using this online website, you can convert text to font for free and find the dream text font for tattoo, love messages, craft work and other important events in your life.
Thus the text font changer tool makes it possible for old and young alike to select stylish font names and complete their text font download in the matter of seconds.
What is a Text Font Converter - Everything About a Text Font Converter
But one question has remained unanswered - what even is a text font converter? The text font converter is a way to convert plain text to a font that is stylish and premium. It is a simple process that uses a Unicode method, recognising each individual letter using Text font in HTML and generating stylish, designer letters that users can directly place in any app like Instagram or valorant. Generation of text font online only takes an instant, after which the HTML link, in the form of the designer text with fonts, is placed in an area that accepts texts.
Indeed you can use this text font download for anything starting from your username to complex WhatsApp status and even as a header to your crazy and funky blogs or YouTube videos!
Have You Noticed Stylish and Attractive Text Font Names Online?
If you have been using internet on a regularly decent basis and have different accounts on social media platforms like Instagram and Facebook or gaming accounts that you use to play games like Call of Duty and PUBG - you must have noticed how everybody has started to use unique and original text font to write their names and usernames on social media. Many aesthetic individuals also use similar fonts for their Instagram stories, posts and WhatsApp status.
They look very eye-catching and trendy, don't they? In fact it does not take much time to use text font in HTML and simply copy and paste it in the place of your choice. Is it really that simple? Let us find out.
How to Operate a Text Font Name Generator? - Just Copy and Paste!
Let us understand how to use a text font name generator and converter, keeping it as simple as simple can be!
First, locate on this website the area which accepts texts. You will see a horizontally rectangular box that says "copy or type text here." You can use your keyboard to manually type the whole text, or you can type it elsewhere and then copy and paste it.
Below this rectangular box you will see a number of different text with fonts arranged in a list. All our text fonts are trendy and elegant. They are suitable for multiple purposes. Choose the text font that you like. You will find text font bold and slim options in the list.
Once you have decided which text font online will work for you, locate the button next to it that says "copy" and click on it. Once you do that, the text font copy and paste process
would have been initiated.
Now you simply need to go to your app where you want to place this attractive text font and click on "paste" button by right clicking or pressing on the screen for a long time.
What is The Benefit of Using a Text Font Style Changer?
There is no end to the benefits received from a good text font changer, especially if you know how to use it cleverly. Furthermore, in some occasions you simply cannot skip the step of choosing a proper text font aesthetic. The most clearly noticeable of advantages that one can enjoy by the usage of a proper text font design is listed below:

Text font makes your content eye-catching: using a text font style changer you can make your content look more eye-catching and by doing so, you can then attract more users to your content as compared to that of your competitors. Studies have shown that when users find a certain content attractive, they are also more likely to react in a positive manner to that content. This means by using the correct text font you can increase your chances of making friends and influencing people.
Text font editor simplifies the task of looking for a good text font: in case you have made up your mind to pay more attention to the text font of your content, you might find yourself worrying over the fact that no suitable text font is available. However with text font editor this is no longer something to worry about, as this text font editor tool has simplified the process of looking for an attractive text font into a few easy steps.
Text font makes your content look put together: the text font online editor can transform your content in a second and make it look more put together and appealing. At the same time the graphic beauty of your content or your social media or gaming account will make it look like a lot of people have put hard work and effort in the content. This in turn is great for the personal dignity of the account holder and is also an aesthetic win that will be appreciated by friends and strangers alike.
Many non verbal emotions are conveyed using a good text font: sometimes, the overall ambience of your content or personal account cannot be correctly conveyed using words alone. In such cases, it is very important to use the correct text font. Correct text font style will determine whether your text comes off as feminine or masculine, bold or gentle, traditional or western, dashing or serious etc. Attractive headings can set the tone for the entire post that you are posting on your stories, status or social media accounts.
The correct text font emphasizes specific parts: by judiciously using your text font bold in the correct places, you can increase and emphasize that specific part. By doing so you can guide the user to focus on certain areas of the post to understand the content better. Some users and followers are not interested in reading the entire post or status; in such cases you can increase visibility by helping them focus on the interesting parts of the post or content.
It makes your letters look sophisticated and creative: most of us want both ourselves and our content to appear sophisticated and elegant. We want to follow trends. No one wants users to think we are old fashioned! One easy trick you can use to create attractive posts that will make you look aesthetic and trendy is by using the text to font changer and choosing for yourself the best quality expressive font style name.
Write Stylish Letters Using Text Font Name for Social Media Account
The text font online generator presents to you 50+ designer text font bold and slim for your social media name and username. Your social media name and username is the first thing that someone sees when they come across your account.
Now you can make sure that your name reflects your charming and splendid personality with wild and crazy text font design from our trendy text font editor which only takes five minutes to make!
Use Attention Grabbing, Fancy Text Font for Instagram Story, WhatsApp Status and Facebook Post
As more and more people have started to join social media like Instagram, WhatsApp and Facebook, the lifespan of every post or story is becoming smaller and smaller as competition on the social media platforms is increasing.
But with the correct text to font generator you can download text font for Instagram that will make people not only pay attention to your post and stories but also come back to them again and again. These days text font for Instagram reels have become extremely popular, and are an essential contributor to the popularity and success of growing Instagram influencers.
But not only text font for Instagram, you can use this same text font download and copy paste method to make stylish WhatsApp status and promotional posts for your small business. You can use this to create fancy WhatsApp forward messages and WhatsApp business catalogues which can increase your sales dramatically.
Facebook has also become a new and growing platform for business creators and owners. Messages both in the form of post on Facebook and individual or group texts on Messenger text font in HTML for their successful business.
Use Text Font Changer to Become Popular in Your Online Gaming Community
If you want to create an unforgettable place for yourself in your online gaming community, try giving the power of the text font online generator a chance.
Especially during gaming, the human brain tends to focus on multiple areas all at once. Due to this, paying attention to teamplayers becomes difficult. However by using the correct text font copy paste feature, you can increase your chances of being noticed by other members of your team while on the field. If your whole gang does this, a simple text font download can increase teamwork and effective gameplay
Further, the stylish text font can make you popular and likeable in the gaming community and increase your chances of making valuable friendships. You will notice that many players are considered "cool" and attractive because they develop a unique persona using beautiful text font and profile pictures.
One Click Solution to Stylish Text Font for Love Messages and Tattoos
Text font generator has made it possible for users to extend the services of this website to real life as well.
In case you want to write a very touching message to your mother or father, or want to write a love message for your partner, you can use the text to font generator and converter to better express your feelings. Text font for tattoo is best generated from a text to font changer, as such text fonts are standard and sophisticated. In the end they make for excellent tattoo text font.
Conclusion
Text font generator can transform the way you perform in the online aspects of your life by changing how other people view you. There are around ending benefits and advantages to using this text font converter tool. It is a completely free application that does not take a lot of time, and can be easily learnt by users no matter what their age, gender or background is. Can use the text font converter app or website to create stylish text font for any piece of text no matter what it is.